August 15, 2022 at 8:20 am
#11479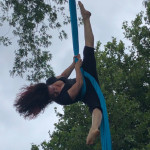 Jenny
Hey guys I need help. I am getting torquing pressure/pain in my right knee ( sousou standing leg ) when I get into the forward balancing section….Is the wrap too high or low? How can I fix this? I don't usually have problems with my knees. Also wrapping wrong I think for the stand out….
https://www.silksstars.com/wp-content/uploads/rtMedia/users/154/2022/08/Silks-practise.mov?1660576565
This reply was modified 1 year, 1 month ago by

Jenny

.