August 3, 2023 at 8:59 am
#15018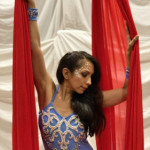 Janice
https://www.silksstars.com/community/janice/media/3855/
This sequence is full challenges. Wish we can have 3 months of training for this (lol). Attached is a video link to visualize my questions regarding the Double Melty Star drop:
1) In my back balance, my body is still upright, almost like a standing position. The lock of the wrap is already close to my armpit. Is this ok, given that I am short and not back-bendy? What silk-adjustment or body-part adjustment must be done?
2) As my back balance is in an upright position, the tail is falling and so I am afraid the wrap's lock will unlock. Thus I ended up holding the tail for security. What can be done to make that lock stay locked?
3) Points for improvement on my video would be appreciated.
Thank you!
This reply was modified 4 months, 1 week ago by

Janice

.