December 11, 2021 at 6:26 pm
#8621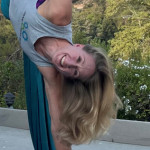 janereaction
Hi there! I just joined two weeks ago, so I've tried a couple of the other challenges but this is my first "official" month here. Anyone else as bruised as I am?
This is a combination video of two separate attempts…I'm having issues keeping control when I come out of the rollups–I tend to panic and then bend my arm or lose my core control, and then "fun" things happen (ouch). I'm also new to beats–I just started learning them, but side to side, not front and back.
Any tips or suggestions would be greatly appreciated. Thanks!
https://www.silksstars.com/community/janereaction/media/1843/